VI-CARREALTIME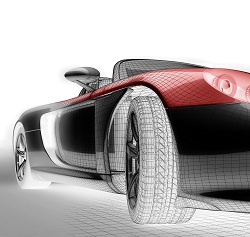 VI-CarRealTime provides a real-time vehicle simulation environment where the same simplified vehicle model can be used by vehicle dynamics and controls engineers to optimize vehicle and control system performance.
By using VI-CarRealTime, Vehicle Dynamics engineers can quickly and easily perform large Design of Experiments (DOE) and multi-objective optimization studies. VI-CarRealTime is the only real-time solution available in the market that can automatically and seamlessly export a real-time vehicle model directly from ADAMS Car and/or K&C results. Similarly, VI-CarRealTime also enables to share component property files such as tires, springs, dampers, and bumpstops with ADAMS Car.
VI-CarRealTime provides validated models which can be used by controls engineers to optimize the controller design based on accurate vehicle performance. VI-CarRealTime can be integrated with Matlab Simulink for controls systems.
VI-CarRealTime helps to reduce the time spent in the different engineering teams to obtain and prepare essentially the same data. It also improves the consistency of the engineering approach while providing state of the art technology. The investment pays off because it can be leveraged by many different teams, including Hardware-In-The-Loop and driving simulator departments.
VI-CarRealTime also features proprietary converters that enable the users to seamlessly use existing vehicle models developed in other real-time software solutions.
APPLICATIONS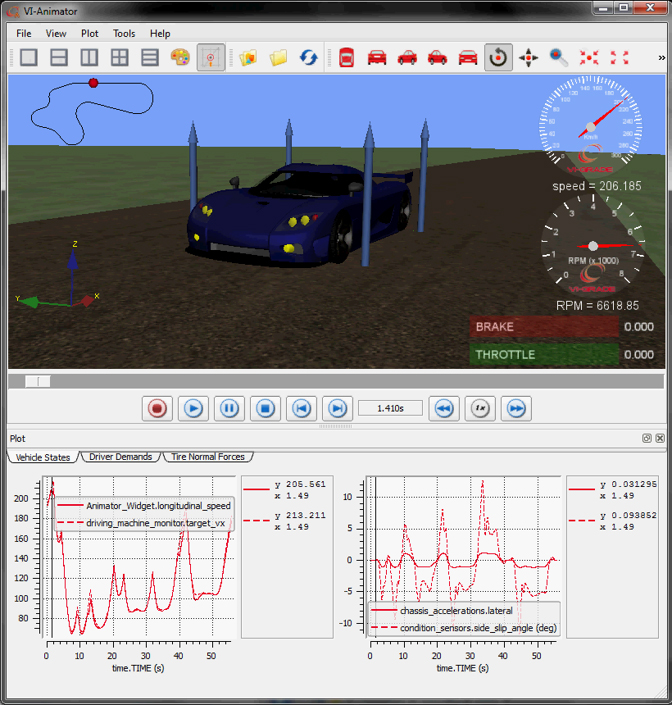 Real-time vehicle simulation
Software-in-the-loop
DOE and Optimization
Fuel Consumption
Hardware-in-the-loop
Competitive vehicle assessment
Driving simulator (static and dynamic)
Traffic simulation
BENEFITS
Derive your real-time models directly from ADAMS Car or K&C testrigs
Leverage a comprehensive library of realistic vehicle models (Sedan, Compact car, SUV, GT car, Trailer, Truck)
Take advantage of state-of-the-art driver technology
Run optimization studies of driving performance
Include detailed road and component modelling (e.g. advanced tire models like FTire, detailed driveline from MapleSim or Simulink) in your vehicle dynamic simulations
Analyze design changes much faster and at a lower cost than with physical prototype testing
Export plant vehicle models for control systems development (SIL) and verification (HIL)
"Feel" your simulation model in real-time on driving and traffic simulators
NEW FEATURES OF V17.1
Adams/Car plugin enhancements:
Comprehensive library of ready-to-use example models for different class of vehicles (city car, compact car, sedan, SUV, sports car)
Possibility of performing press maneuver events (ISO Lane Change, Slalom, Obstacle Avoidance) with control active systems
Double Lane Change and Obstacle Avoidance events update according to ISO-3888-1/2
FMI master update with full support for co-simulation including static analysis
Interface with SCANeR traffic and sensor environment by OKTAL
New capability to share models hiding confidential property file data when publishing a full vehicle model into a database
Introduction of additional effects on suspension components steering dependency
Enhanced advanced steering model (Prof. Pfeffer model) with new type of friction and servo gear
Possibility of using external explicit suspension models using Functional Mockup Interface ("FMI")
Skidplate component to compute chassis-to-road plane impact forces
Support of user defined events including custom GUI and pre-events
New pre-defined ramp steer event
Availability of external inputs from Simulink, allowing straight-forward integration with ADAS controllers
Possibility of setting the initial position of the vehicle in any location of the road/track during the event set-up
VI-SpeedGen event now supports a more accurate tire slip formulation
External road models can now be coupled to built-in tire models through the Simulink interface
Improvement of VI-Driver behavior in low-speed driving conditions
Support of xPC Target
New Air Spring component
Adams/Car plugin enhancements:
The current VI-CarRealTime version supports Adams/Car 2015.1, 2015.0 and 2013.2 64bit
Additional suspension dependency to steering
Sprung mass computation is now performed when running the full vehicle export
Skidplate component is now automatically exported