VI-BIKEREALTIME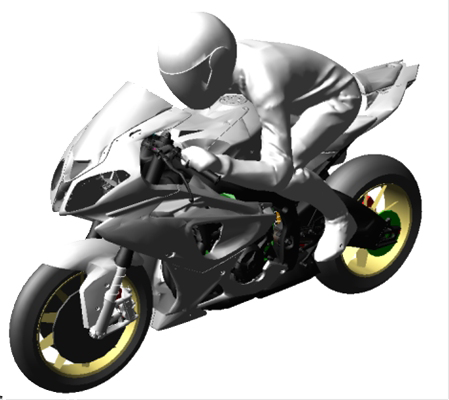 VI-BikeRealTime is a modeling, post processing and real-time analysis environment for motorcycle models which allows designers, analysts and track engineers to take into account effects from the motorcycle itself as well as from the road profile and the rider.
VI-BikeRealTime is also the ideal platform to perform software-in-the-loop and hardware-in-the-loop activities on your motorcycle model. This is made possible thanks to the interface with MATLAB Simulink and with most widely used HIL platforms. In this way engineers can first develop reliable control systems in a safe environment and then test them checking how real ECUs interact with the virtual model. ECUs durability under realistic working conditions can be tested as well.
VI-BikeRealTime is interfaced with VI-Motorcycle, the ADAMS-based multibody solution for detailed motorcycle models, and therefore real-time models can be automatically derived from detailed multibody models. This approach, already proven to be successful in the automotive industry, allows users to decrease modelling time, to increase confidence in results and to maintain only one database.
VI-BikeRealTime has been proven to deliver reliable results in several different projects with leading motorcycle manufacturers. Despite of the fact that the model is simplified, results match very well experimental measurements.
APPLICATIONS
Support for different hardware-in-the-loop environments
Easy-to-use interface with MATLAB Simulink for software-in-the-loop studies
Maximum performance event to predict vehicle limit speed along the desired 2D or 3D track
Built-in postprocessing environment for live animation and plotting
Moveable rider mass option to accurately define instantaneous roll axis
Multiple options for tire models, like VI-Tire Motorcycle and MF-Tyre 6.2
Model divided in subsystems (frame, front suspension, rear suspension, tires, brakes, gears, aerodynamics and powertrain) to easily handle all input parameters
Automatic model export from VI-Motorcycle
Real-time environment for the simulation of high-performance and production motorcycles and scooters
BENEFITS
Possibility of taking design decisions in the shortest time possible at minimum cost
No need to validate the models derived from detailed VI-Motorcycle assemblies
Possibility of increasing the number of design variations to be studied
Motorcycle behavior can be investigated in real-time
NEW FEATURES OF V17
Support of Delft-Tyre MF-Tyre/MF-Swift tire models
Support for multiple luggage and rider/passenger configuration (loading conditions)
New PressManeuverMoto simulation: slalom maneuver according to two different cone spacing (7 and 14 meters)